Today, I implemented a digest of past entries of "
The Call of the Hezekiah Company
" blog posts at
junipertreeandbeyond.com/garysblog
. This will enable readers to easily start at the beginning and read the entries in chronological order.
If you have been seeing these
"The Call of the Hezekiah Company"
posts which have been coming daily Monday - Friday since 02/23/2015 and wonder what it's about, now you can easily access the digest and read the posts in order from the beginning.
In the coming weeks, I will, God willing, be posting "The Call of the Hezekiah Company Digests", with numerical designations, 1, 2, 3, 4 etc. Today's Digest is
"
The Call of the Hezekiah Company Digest 1"
,
and includes the first post entries 1-5 covering 02/23/2015 - 02/27/2015.

God bless you, keep you, and sanctify you more and more each day until you are presented blameless before Christ at His Coming.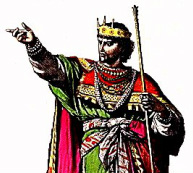 ---
A CALL TO THE OLD PATHS
Some reading this are called and are being prepared by God to be among those of the "Hezekiah" company to restore proper worship and to preach a proper gospel after the judgement which God is now bringing forth upon America and the nations. You have been born to this cause and purpose. Some of you know who you are. Some are beginning to know. Get familiar with this account of 2 Chronicles 29-32. It is speaking to you and the time is upon us.

By the commandment of the King and with the commandment of the King you have been appointed to go forth as:

...ONE WHO IS STRENGTHENED BY JEHOVAH; CALLED OF JEHOVAH, WHO WILL RESTORE PROPER WORSHIP ,YES EVEN BIRTHED/BROUGHT FORTH FOR THIS REASON; FOR JEHOVAH HAS REMEMBERED HIS PEOPLE.......AND HIS PLANS FOR THESE LAST DAYS.


1Cor 10:11 Now all these things happened to them for ensamples: and they are written for our admonition, on whom the ends of the world are come.